Saw these two guys today Simon Pegg, and Nick Frost in the IFC house at SXSW today. They are responsible for writing and staring in two movies that I love, Hot Fuzz and Shaun of the Dead. They just had wrapped up an interview in studio B. They seemed pretty fun. I think they are promoting for their movie Paul, I could check and see but I'm too tired to figure it out.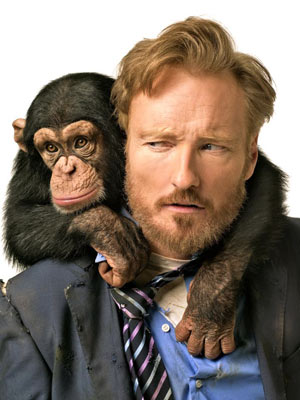 Also Saw Conan O'brien today. He was taking interviews before a live preformance he was about to do at one of the theaters near the IFC house. Jef (fellow crew dude) got a couple of shots of him. That was pretty cool.
Ashton Kutcher, (too lazy to look up how to spell his name) did an interview at the IFC house as well. Demi was with him. I was interested because Ashton talked a lot about human trafficking and the work he's doing to try to stop it. I was somewhat impressed with him and the content he chose to talk about. Also saw Denis Quaid yesterday.
So that's the celebrity update. In terms of production, we're having a great time. We're shooting mostly content for bumpers that will appear on IFC, which is a cable movie channel. The spots are turning out really nicely. The thing I love is that I haven't spent any time down here so it's all interesting.
This morning there was a parade of the most eclectic marching bands I have ever seen. It was like a hippy street performer walking concert. The folks from New York that we're working with seem to really enjoy what they are getting to see.
Alright, I think that's enough for tonight. Have a great one.